New
Nihongo Noryoku Shiken
N4 Mogi Tesuto <2>
Japanese Language Proficiency Test
N4 Mock Test <2>
Includes one practice test for the Japanese Language Proficiency Test. The number and format of questions is the same as for the exam. This book can be used for pre-exam level checks, testing your own skills, etc. The book matches the changes in the exam running time and number of questions that occurred in December 2020.
Supplementary teaching/study materials
This book has the following supplementary materials. You will be able to use these more conveniently once you have registered as a member and logged in. Please go to "User Registration" in the bar above to register your name, e-mail address and postal address.
Registration not required
Free

Nihongo Noryoku Shiken N4 Mogi Tesuto <2> Kaito Yoshi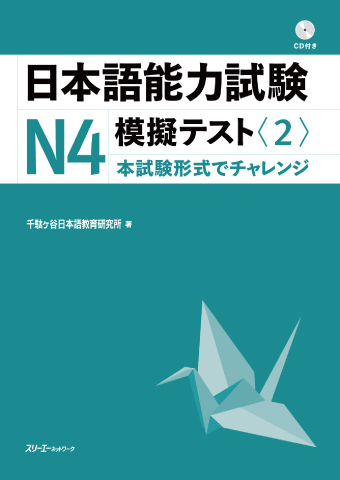 New
Nihongo Noryoku Shiken
N4 Mogi Tesuto <2>
Japanese Language Proficiency Test
N4 Mock Test <2>
Written by: 

Price: 990 yen (tax included)

Book size: B5
Number of pages: 28

Separate volume: 56

CD: 1 CD

ISBN: 9784883198863
Related books