New
Ryugakusei no Tame no Kindai Bungobun Nyumon
- Gendai no Nihongo to Nihongo o Shiru Tame ni -
An Introduction to Early Modern Literary Texts for International Students
This is a teaching material for reading modern literary language for advanced learners.

There are many clues to the establishment of modern Japanese society in early modern Japanese writings, such as Yukichi Fukuzawa's An Encouragement of Learning. However, the literary language at that time contained vocabulary and expressions that are unfamiliar to international students, making it difficult to understand.

For learners who do not have knowledge of classical Japanese language, this book aims to teach them the basic grammatical rules so that they can read literary texts.

Through reading about modern topics such as basic human rights, war, pollution, politics, and business ethics, this is a study material that allows the learner to understand Japanese from early modern to present day more deeply via learning about modern Japanese thought and studying literary language.

Five-part structure:
Grammar: Learn the basics of early modern auxiliary verbs and conjugation rules

Close reading: Using the grammar knowledge learned in the Grammar section, translate the sentences by yourself. Think about modern society in the wake of problems at the time such as human rights issues and politics.

Literary language and modern language: Compare modern language with literary language and think about the characteristics of modern Japanese

Reading passages: 12 reading passages with annotations on literary expressions. Deepen understanding through reading comprehension

Appendix: Conjugation table, old kana orthography, rules for reading Chinese texts, reference chronology table

This book can be used not only by international students but also as an introductory book for junior high school and high school students to study ancient writing and Japanese history.

This book is also the best opportunity to incorporate early modern and modern Japanese history and into lessons.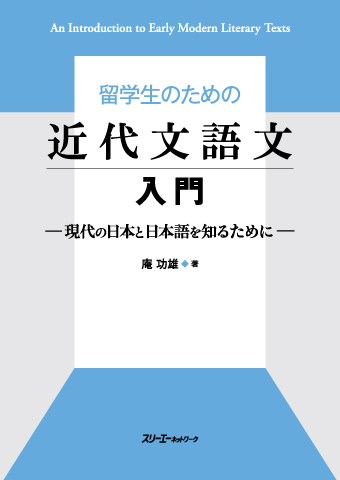 New
Ryugakusei no Tame no Kindai Bungobun Nyumon
- Gendai no Nihongo to Nihongo o Shiru Tame ni -
An Introduction to Early Modern Literary Texts for International Students
Written by: 

Price: 2,200 yen (tax included)

Book size: B5
Number of pages: 161

Separate volume: 12 (解答)

ISBN: 9784883198979