New
Nihongo Bunpo Enshu
Kotogara no Kankei o Arawasu Hyogen - Fukubun -
Japanese Grammar Practice:
Expressions Related to Specific Situations – Complex Sentences – Revised Edition
The purpose of the Nihongo Sogo Enshu series is to organize and explain grammar in an easy-to-understand manner and have the learner practice how to use it, thereby ensuring he/she uses advanced-level Japanese appropriately. The learner follows a process of discovering a grammar rule while solving a problem, and then confirming the usage through practice. Finally, the learner does comprehensive practice as a summary of what has been learnt.

In this book, the learner looks deeper into compound-sentence grammatical items that are studied at the beginner level, such as "toki" and "tara," and learns by comparing similar expressions. The book aims to have the learner understand the different nuances of grammatical items that the learner doesn't completely know how to use even at the advanced level and then use them appropriately.

This book can be used not only for the grammar study of Japanese learners, but also for organizing the grammar knowledge of Japanese teachers.

This is a revised edition of Nihongo Sogo Enshu Kotogara no Kankei o Arawasu Hyogen – Fukubun, which was originally published in 2004.

There are almost no changes to the items under study, but the explanations and examples have been changed to be more easily understood.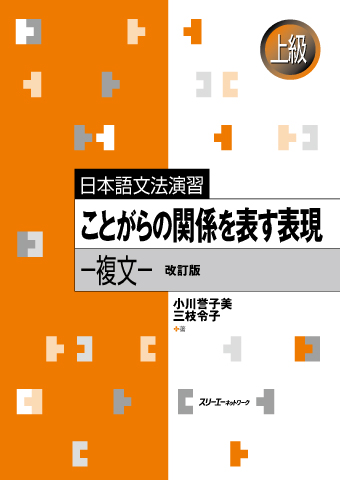 New
Nihongo Bunpo Enshu
Kotogara no Kankei o Arawasu Hyogen - Fukubun -
Japanese Grammar Practice:
Expressions Related to Specific Situations – Complex Sentences – Revised Edition
Written by: 

Price: 本体1,300 yen+tax

Book size: B5
Number of pages: 113

Separate volume: 23

ISBN: 9784883198023
Related books