Ippo Nihongo Sanpo Kurashi no Nihongo Kyoshitsu Shokyu 3
This third book in the series continues on from book two. Packed with conversations and examples closely related to daily life, the book allows for enjoyable study. Grammar is studied in a simple step-by-step process, allowing the learner to grasp it in a slow but steady manner. The book is structured in such a way that as the learner studies the grammar and conversations he/she also studies kanji. Unlike the first two books, the audio for this book is available for download at the following page: http://www.3anet.co.jp/ja/6551/.

Supplementary teaching/study materials
This book has the following supplementary materials. You will be able to use these more conveniently once you have registered as a member and logged in. Please go to "User Registration" in the bar above to register your name, e-mail address and postal address.
Registration not required
Free

Ippo Nihongo Sanpo Kurashi no Nihongo Kyoshitsu Shokyu 3 Onsei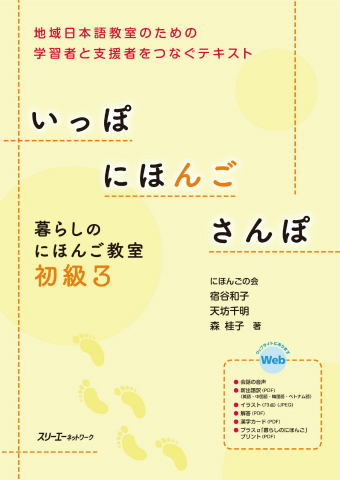 Ippo Nihongo Sanpo Kurashi no Nihongo Kyoshitsu Shokyu 3
Written by: 

Price: 2,400 yen+tax

Book size: B5
Number of pages: 239
ISBN: 9784883197767
Related books