New
Genba no Nihongo Oyohen Hataraku Gaikokujin no Tame no Nihongo Komyunikeshon
Worksite Japanese - Advanced Edition
Japanese Communication for Working Foreigners
The Genba no Nihongo series is a series of books that enables even beginner-level Japanese learners to study the Japanese required for use at worksites as well as the cultural knowledge and abilities needed to work for a Japanese company. "Genba" here implies the frontline of a job in various types of workplaces where foreigners and Japanese need to communicate, particularly in the manufacturing and IT industries.

In this book, each unit covers a situation, such as sharing a schedule or reporting a problem, that the learner will face in the workplace. Through the learner watching/listening video/audio content, he/she can realistically imagine what is happening and perform "tasks" that match the situation. In this way, he/she will acquire not only the vocabulary and expressions used in such situations, but also the sort of behavior required by Japanese companies.

The series is divided into two books: Basic Edition (Levels 1 and 2) and Advanced Edition (Level 3), and while the language activities and theme of each unit is the same, the vocabulary and sentence patterns used differ depending on the level. The vocabulary and sentence patterns used at each level correspond to the levels in Minna no Nihongo Shokyu. This is a teaching material that allows working foreigners who have difficulty in securing time to learn Japanese to effectively acquire the Japanese proficiency needed for their work.

Aimed at: Beginner learners working or wishing to work in Japan
Level: Beginner
Level 1: Roughly at the level of Lesson 13 of Minna no Nihongo Shokyu I
Level 2: Roughly at the level of Lesson 25 of Minna no Nihongo Shokyu II
Structure: 10 Units (+ Script and Answer Booklet)
Inscription: Kanji with kana readings (Level 1 has some romanization)
Translations: English, Chinese, Vietnamese, Thai and Indonesian

Free Web Study Materials
・Video and audio content
・Word list: A list of unlearned vocabulary and expressions for each level, with translation into five languages (English, Chinese, Vietnamese, Thai and Indonesian)
・Teacher's Guide: The aim of the unit, how to proceed with the task, points to keep in mind, etc., are summarized for each unit.

Supplementary teaching/study materials
This book has the following supplementary materials. You will be able to use these more conveniently once you have registered as a member and logged in. Please go to "User Registration" in the bar above to register your name, e-mail address and postal address.
Registration not required
Free

Registration not required
Free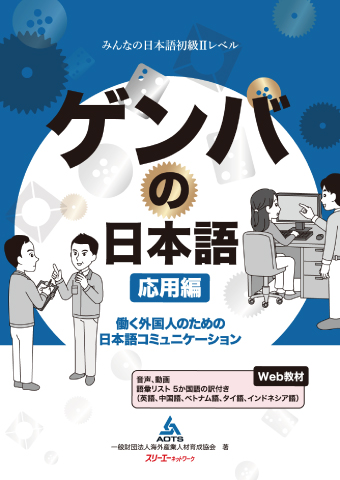 New
Genba no Nihongo Oyohen Hataraku Gaikokujin no Tame no Nihongo Komyunikeshon
Worksite Japanese - Advanced Edition
Japanese Communication for Working Foreigners
Price: 1,320 yen (tax included)

Book size: B5
Number of pages: 75

Separate volume: 33 (スクリプト・解答例)

ISBN: 9784883198764
Related books