Out of stock
Kaitei Ban
Topikku ni yoru Nihongo Sogo Enshu
Tema Sagashi kara Happyo e Chukyu Zenki
Comprehensive Japanese Practice through Specific Topics Lower Intermediate (Revised Edition)
A revised edition of this long-selling book, the data and information in each chapter have been updated; however, the general structure and the topics found in the book have not changed.

The book covers the five topics of Ryoko, Itsu, doko de kau, Matsuri, Okurimono, and Masumedia. Through the examination of each individual topic, knowledge of grammar and vocabulary and the four skills of reading, writing, speaking and listening are naturally all brought together in such a way that the learner gradually improves his/her ability to discuss themes in Japanese.

The graphs for use with the themes have been updated. Some of the information in the reading material for Itsu, doko de kau and Masumedia has been updated.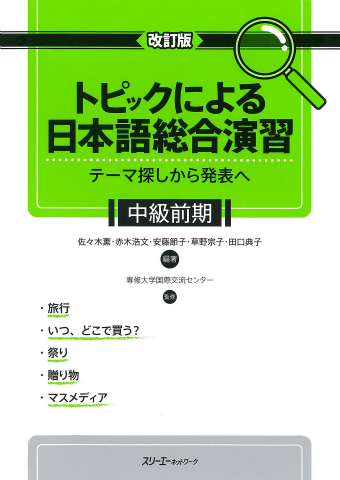 Out of stock
Kaitei Ban
Topikku ni yoru Nihongo Sogo Enshu
Tema Sagashi kara Happyo e Chukyu Zenki
Comprehensive Japanese Practice through Specific Topics Lower Intermediate (Revised Edition)
Edited by: 

Supervised by: 

Price: 1,500 yen+tax

Book size: B5
Number of pages: 105
ISBN: 9784883195015
Related books