Kotoba de Oboeru Yasashii Kanji Waku Shokyu 1
- Nihongo Shokyu 1 Daichi Junkyo -
Elementary-Level Kanji Workbook
Conforming to the Syllabus of Daichi Elementary Japanese 1
This workbook has been devised so that students from non-kanji using countries can easily learn to read and write kanji. In the book, rather than simply memorizing kanji one character at a time, the kanji are studied through words made up of basic kanji. In each chapter, between 13-18 words made up of 6 to 8 kanji characters are studied, and since the student can learn kanji while reviewing elementary vocabulary, this study method also provides motivation for students from non-kanji using countries.

In the second half of each book, there are mini-quizzes for each chapter, as well as a summary quiz after every six chapters. In this book, 160 kanji in 352 words are studied. Explanations are provided in English and Vietnamese.

The words studied in each chapter of the kanji workbook conform to the vocabulary as it appears in Daichi Main Text 1.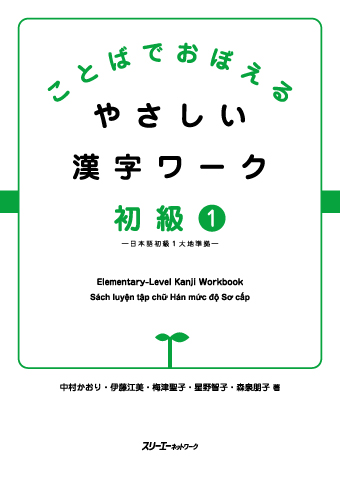 Kotoba de Oboeru Yasashii Kanji Waku Shokyu 1
- Nihongo Shokyu 1 Daichi Junkyo -
Elementary-Level Kanji Workbook
Conforming to the Syllabus of Daichi Elementary Japanese 1
Written by: 

Price: 1,320 yen (tax included)

Book size: B5
Number of pages: 135

Separate volume: 7 (こたえ)

ISBN: 9784883197798
Related books