Nihongo Shokyu 1 Daichi
Mein Tekisuto
Daichi - Elementary Japanese 1
Main Text
A text aimed at people studying Japanese in language schools and universities, this book not only enables the learner to grasp basic Japanese grammar, it is also structured to increase ability through the tasks found in each chapter. With the presentation of usage through very practical settings and clear illustrations,this is a book that uses various study devices to have the beginner effectively learn Japanese in a short period of time.
Supplementary teaching/study materials
This book has the following supplementary materials. You will be able to use these more conveniently once you have registered as a member and logged in. Please go to "User Registration" in the bar above to register your name, e-mail address and postal address.
Registration not required
Free

Nihongo shokyu 1 Mein Tekisuto Onsei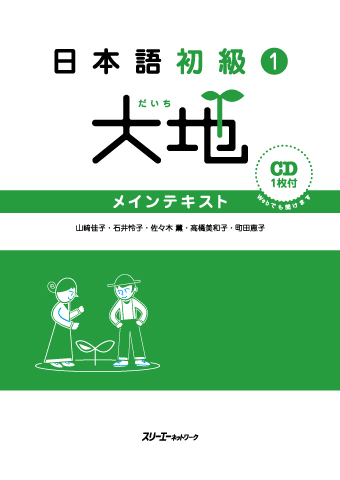 Nihongo Shokyu 1 Daichi
Mein Tekisuto
Daichi - Elementary Japanese 1
Main Text
Written by: 

Price: 3,080 yen (tax included)

eBooks: Please check the price at each eBooks store.

Book size: B5
Number of pages: 199

Separate volume: 46 (解答)

CD: 1 CD

ISBN: 9784883194766
Related books