Shadoingu de Nihongo Hatsuon Ressun
Japanese Pronunciation Practice through Shadowing
The unnatural pronunciation of Japanese can have a big influence on communication, creating a childish impression and making the speaker's ability seem lower than it actually is. This book, using the technique known as 'shadowing', assists the learner of Japanese to pronounce the language more smoothly and correctly.

Each chapter consists of a "Text," "Pronunciation Points," "Practice Exercises" and "Check/Notes" section, and one chapter can be completed within 15 minutes, making it easy to include short pronunciation exercises in class. Moreover, with the text sections dealing with such subjects as Japanese culture, sightseeing attractions and proverbs, pronunciation practice can be done enjoyably and without becoming dull.

With a separate booklet including translations in English, Chinese, and Korean, the book can also be easily used for self-study.


Supplementary teaching/study materials
This book has the following supplementary materials. You will be able to use these more conveniently once you have registered as a member and logged in. Please go to "User Registration" in the bar above to register your name, e-mail address and postal address.
Registration not required
Free

Shadoingu de Nihongo Hatsuon Ressun Onsei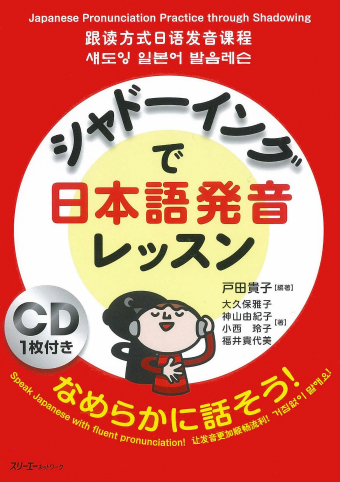 Shadoingu de Nihongo Hatsuon Ressun
Japanese Pronunciation Practice through Shadowing
Written by: 

Edited by: 

Price: 1,540 yen (tax included)

eBooks: Please check the price at each eBooks store.

Book size: A5
Number of pages: 85

Separate volume: 22 (本文訳)

CD: 1 CD

ISBN: 9784883195923