Chukyu Reberu Rorupurei de Manabu Bijinesu Nihongo
- Shukatsu kara Nyusha made -
Intermediate-Level Business Japanese Study through Role-Plays
From Job Hunting to Joining a Company

Fostering basic Japanese language ability for job hunting and starting a new job in Japan
Through tasks such as role plays and discussions, this book trains the learner to function in Japanese while job hunting and starting work. The first half of the book is for students, and covers scenes related to job hunting and job interview preparation; the second half is for new company employees, and covers scenes related to starting at a company and having been there for a few months. On top of the role plays, and discussions, the learner will also learn sentence patterns and expressions frequently used in business as well as gain knowledge and insights into job hunting and Japanese corporate culture.

Supplementary teaching/study materials
This book has the following supplementary materials. You will be able to use these more conveniently once you have registered as a member and logged in. Please go to "User Registration" in the bar above to register your name, e-mail address and postal address.
Registration not required
Free

Chukyu Reberu Rorupurei de Manabu Bijinesu Nihongo - Shukatsu kara Nyusha made - Onsei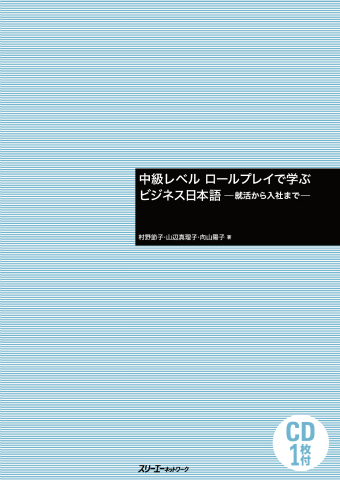 Chukyu Reberu Rorupurei de Manabu Bijinesu Nihongo
- Shukatsu kara Nyusha made -
Intermediate-Level Business Japanese Study through Role-Plays
From Job Hunting to Joining a Company
Written by: 

Price: 1,870 yen (tax included)

Book size: B5
Number of pages: 103

Separate volume: 12 (練習問題解答例)

CD: 1 CD

ISBN: 9784883197705
Related books