Gofun de Dekiru Nihongo Oto no Kikiwake Toreningu
Training in Japanese Sounds in Five Minute Segments
This textbook has been devised to allow learners to practice their listening comprehension related to basic sounds in Japanese, particularly pairs of sounds that are difficult to distinguish between.

The book comprises 16 chapters of two to three pages each and is very suitable for use for short periods in daily lessons or classes. It can also be used to have learners first do the Trial section at the beginning of each chapter, to identify and then work on their weak points. The book is written in kana and Romanized letters, so can also be used by learners who are not studying Japanese characters. At the back of the book there is a word list in English, Korean and Chinese showing all the vocabulary found in each chapter.

Areas covered by the book: mora and special mora; vowels; long vowels; double consonant + small tsu; syllabic n; contracted sound ya, yu, yo; voiced/unvoiced k/g, t/d, b/p; pairs that are difficult to distinguish between: shi/chi, s/shi, z/j, tsu/chu/su, d/n/r; compound words, devoiced vowels.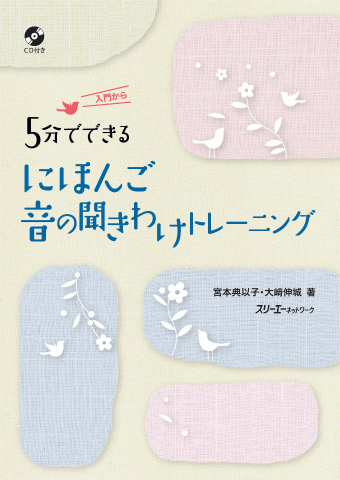 Gofun de Dekiru Nihongo Oto no Kikiwake Toreningu
Training in Japanese Sounds in Five Minute Segments
Written by: 

Price: 1,400 yen+tax

Book size: B5
Number of pages: 67

Separate volume: 15 (答えとスクリプト)

CD: 1 CD

ISBN: 9784883195817