Hajimete Manabu Kaigo no Nihongo Kihon no Kotoba
Studying Nursing Care Japanese for the First Time
Basic Words
In recent years the number of foreigners in Japan aiming at working in the nursing care field has been increasing. However, it is very difficult to learn this specialist field from scratch. This book will be the first volume of Hajimete Manabu Kaigo no Nihongo (Studying Nursing Care Japanese for the First Time), which is to be a series of books that will make study easier for those from overseas without a background in nursing care.

In this first volume, basic words that the learner should know in the nursing care field are studied, and, through abundant examples and illustrations, the learner studies the words while imagining the actual nursing care situation. The accompanying red plastic cover sheet can be used for testing/reviewing how to read the words.

Subject: 1,500 nursing care-related words
Target users: Japanese language schools, public welfare system vocational schools, foreigners studying at universities
Level: Lower intermediate and above
Orthography: Kanji-kana (with kana readings)
Translation: English, Chinese, Indonesian, and Vietnamese

*In this series, we plan to publish two sequel texts, one with with more specialist knowledge, and another on the lifestyle of the Japanese, how to address users of nursing care facilities and take notes, etc.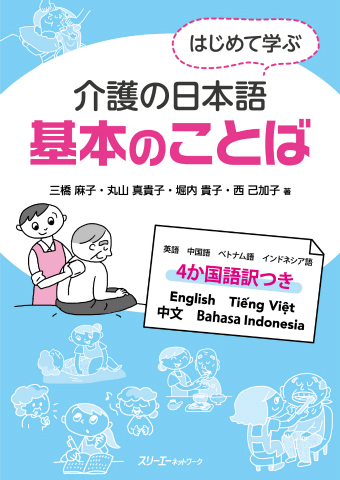 Hajimete Manabu Kaigo no Nihongo Kihon no Kotoba
Studying Nursing Care Japanese for the First Time
Basic Words
Written by: 

Price: 2,860 yen (tax included)

Book size: B5
Number of pages: 275

Separate volume: 20 (解答)

ISBN: 9784883197514
Related books