Hajimete Manabu Kaigo no Nihongo Seikatsu Chishiki to Komyunikeshon
Studying Nursing Care Japanese for the First Time – Life Knowledge and Communication
This is the third volume in the Studying Nursing Care Japanese for the First Time series.

With the aim of improving communication skills with people the learner will come into contact with at nursing care facilities, he/she will study items that reflect the needs of both Japanese and foreign staff working at such locations, in two parts: "Life Knowledge" and "Communication."
In "Part 1 Life Knowledge," the book introduces, with illustrations and photos, the knowledge necessary for living in such facilities, such as Japanese culture useful for conversation with elderly users of the facility and the characteristics of clothes and meals.
In "Part 2 Communication," the book mainly focuses on expressions required in various situations that occur at care facilities, such as making polite suggestions to elderly residents and conveying information to other staff members.
Both Parts 1 and 2 have exercises, so the learner can actually use what he/she learns as he/she progresses.
This book is useful not only for those who plan to work at such facilities but also for those who are already active there.

Target: Foreigners working or who want to work in the nursing care field
Level: "Part 1 Life Knowledge": Beginner and above; "Part 2 Communication": Lower intermediate and above
Orthography: Kanji with kana readings
Translation: None
Online content: Audio, color photos, etc.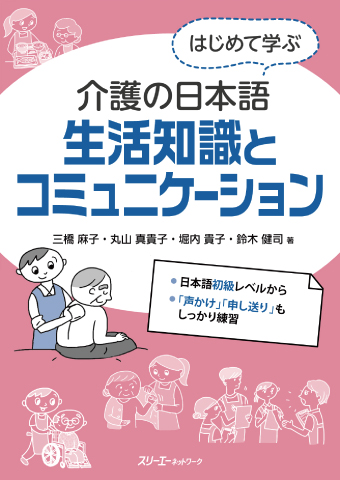 Hajimete Manabu Kaigo no Nihongo Seikatsu Chishiki to Komyunikeshon
Studying Nursing Care Japanese for the First Time – Life Knowledge and Communication
Written by: 

Price: 1,650 yen (tax included)

Book size: B5
Number of pages: 109

Separate volume: 16 (解答、音声スクリプト)

ISBN: 9784883198474
Related books